Why Create an Account?
Access to photos and details on 65,232 homes, foreclosures, and short sales in Northern Illinois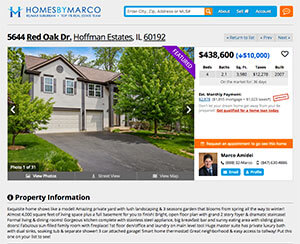 The latest up-to-date listings. We update our website every 15 minutes!
Instant email alerts when new homes come on the market or drop in price
Save your frequent searches
Save your favorite homes
View market trends in your area
See calculated commute times from each home to your place of work and to each of the schools
And best of all, it's FREE!
A Few Testimonials
I really liked when Anita explained the process and kept me on top of what I needed to do. She set expectations of what could possibly happen and called it a practice bid. Now looking back she was being nice in the sense that she didn't want me to feel bad if the outcome was unfavorable, and for that I am very grateful.
- Ellen Alvarado
I just want to let you know that I really enjoy using your website to browse for houses. I like that I get emails with new listings and price reductions. It's also nice that your agent sends listings to me by email but she does not call and harass me constantly like other real estate agents have done. Your website is easy to use and always up-to-date and it's fun to be able to search by subdivision -- that is a great feature! Thanks for putting a QUALITY product out there and thank you for actually taking the time and investing the money to make your website easy to use and a lot better than your competition. It is so user friendly ! If I am ever ready to sell or buy, I will definitely call you and work with you.
- Tina Wyatt
Helpful, available, knowledgeable, great insight insights into specific neighborhoods, listens to what we wanted so we didn't waste time looking at houses we had no interest in. We'd want to work with them again.
- Charles Donahue